Simplicity Pattern #2907
Toddler Separates: Toddler Pants, Shorts, Dress, Shirt or Vest (pictured: Shirt, style D)
Sizes: 1/2 – 4 (pictured: size 4)
Material used: 45″ Commercial Cotton Print (7/8 yd)
Other Materials: 6 snaps or buttons, fusible interfacing, hook & loop (optional)
Doesn't he make an adorable fashion model? OK, I know, he's my son, so of course I think he is cute.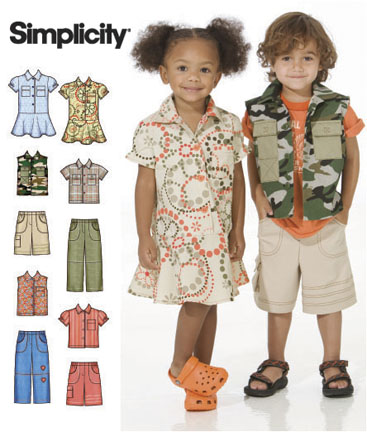 This pattern went together like a dream. It is so rare that commercial pattern pieces fit together so perfectly. All of the markers lined up and the seams matched and the points turned; wonderful.  It yeilded very clean, professional, and of course, adorable results.  Because it was such a busy print, I didn't feel it was necessary to line up the print in the front or on the pockets – I don't think it made a difference in the end results.  I used snaps on the pockets and shirt fronts – I'm having some trouble with the buttonholer on my sewing machine and the snaps were an easy fix until I have time to get the machine serviced.  I think in the end they added a nice touch, too.
On the downside…the lap instructions were a bit over-complicated, as were the instructions for adding flaps to the pockets (making sure the two snap halves were lined up for the pokets was quite a pain).  The sizing seems way off.  The shirt looks a little small, no?  Caleb takes a 3T/4T in most clothing now, sometimes even a 2T still (40lbs, 40″).  I would say this shirt is a 2T, not a 4, which is the size I made.  Already, he can't snap that top snap (not that you would on a bowling-style shirt anyway).  It's a little disappointing, after having spent so much time on the shirt, that he will only be able to wear it for a short time.  On the other hand, I like the pattern enough, I am going to see if I can get it in a larger size. 
So, in conclusion, excellent pattern, but watch the sizing on this one.
[EDIT 7/14/2010: Added my review to Pattern Review right here.]