I've been working on this new blazer/jacket for a couple weeks now. It's really cute, but it's also sort of a pain in the butt. I haven't posted about it yet because I'm still working on the flippin' pintucks. Plus I think I'm out of interfacing. But it really is cute. Really.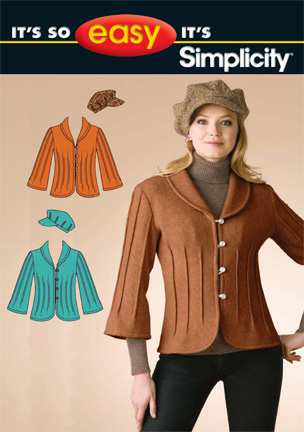 See? Cute. Mine is going to be in this greyish-periwinklish wool/cashmere blend, with vintage silver-backed glass buttons.
A while back (like six months ago) I made myself a new skirt, but it was much too short. Didn't realize how short the pattern was until too late. 🙁 Other than that, I haven't made any clothes for myself in quite some time. Since before they baby. That's a long-ass time. So the jacket is taking me a little while.
Not gonna make the hat, though. That would just be way too much.
Just realized that it's Tuesday so it's sewing night!